#RethinkMalePrivilege – this International Men's Day, I'm reposting one of my four year old Tumblr posts. Made this to highlight under-discussed mens' issues.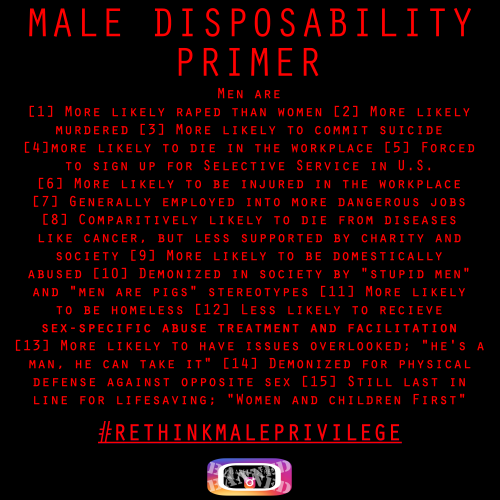 [1]  More men are raped in the US than women
[2]  Expanded Homicide Data
[3]  Suicide Statistics – AFSP
[4]  Fewer Women Than Men Die of Work-Related Injuries, Data Shows
[5]  Selective Service Systems > Registration > Women And Draft
[6]  Women Experience Fewer Job-Related Injuries And Deaths Than Men
[7]  America's 10 Deadliest Jobs – Forbes
[8]  The Book – The Myth Of Male Power by Warren Farrel
[9] CDC Study: More Men than Women Victims of Partner Abuse
[10] Why Does TV Love To Portray Dads As Idiots? 
[11]  Single Males: The Homeless Majority – National Health Care Center 
[12]  First-of-its-kind domestic violence shelter for all-male victims opens in Arkansas 
[13]  You can't deny it. Gender studies is full of male-blaming bias 
[14]  Dear men: It is never ever ever okay to hit a woman and no one should have to tell you that 
[15]  Whatever happened to women and children first?