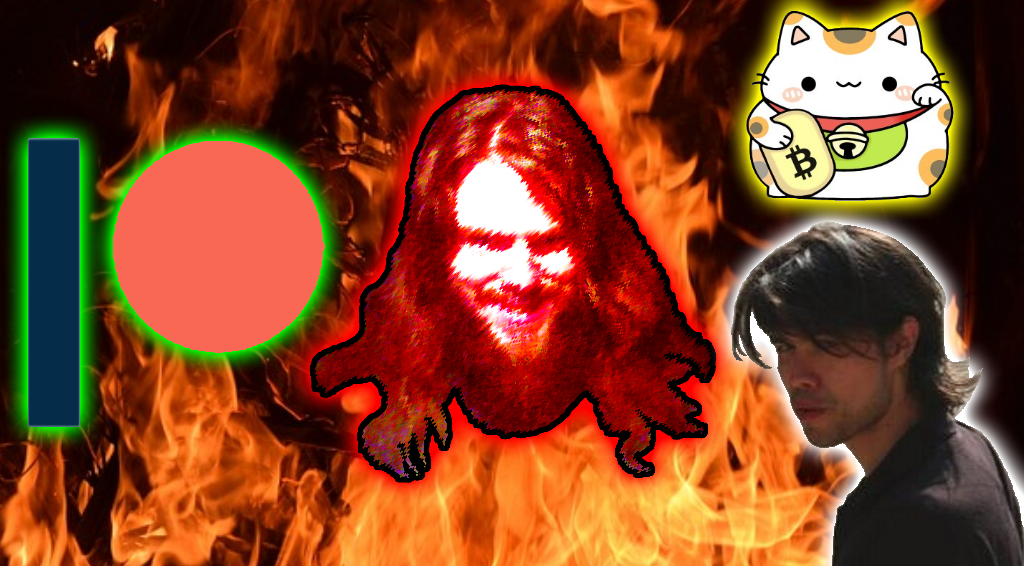 I had the pleasure of an email interview with Johnathan Hales, founder of BitBacker, and free speech advocate. Until I get my ass to Olympia, or move to LA, this will be my primary interview format. My internet here isn't even internet, so I think obviously, I'm invested in earning money doing this. What concerns me most in that regard is that no matter how much steam I gain, something I say could piss off the wrong person, and get my income cut off.
Because of that, and the recent banning of Sargon from Patreon for wrongspeak, I'm looking for answers. I want to interview anyone with another way to earn steady money online – so here's a series. Patreon Killers will be a showcase of alternatives, and a way to highlight my presence there. Full disclosure, since I'm a Gamergate supporter, for ethical journalism, I have an account. This means if you…

… anywhere on this site, you'll be taken to my account on BitBacker. But without further ado, here's the interview. Questions will be in bold, and answers will not.
---
What inspired you to create BitBacker?
A lot of focus is currently on the uncensorable nature of crypto. While 

bitbacker.io

 contains this feature,  it was actually conceived prior to the infamous Patreon exodus.

Fiat services are expensive. Patreon takes 10% of the donations, half of which goes to outsourcing the regulatory compliance of being a money transmitter to an external payment processor. YouTube takes an even larger 30% of the SuperChats!

Bitbacker.io

 takes only 1%. We do this by leveraging the ability of crypto to handle all transactions in the client's browser. 

Bitbacker.io

 *never* touches a user's private key. This provides security against hacks and avoids the large costs of regulatory compliance.
Gotcha – yeah, I was going to ask about that… what are your views on censorship? Will all creators be welcome, including those supporting what other platforms consider "hate speech"? Why or why not?
Yes, we will never censor anyone for their ideas as long as they are not violating the law or posing a danger. Further, because we don't rely on a payment processor, we can't be bullied like SubscribeStar was.

Our commitment to free speech isn't just ideological, it's also a pragmatic decision. Patreon apparently uses 10% of their workforce to monitor their users. That just seems like an exorbitant expense to us and cutting that out is one of the ways in which we get the fees on 

bitbacker.io

 so much lower than Patreon's.
Sounds good. So you've mentioned Patreon multiple times with regard to speech – how about IP? When researching your platform before joining ( and before thinking "hey, I should interview this guy"), I saw Bitbacker.cash, a BCH-exclusive platform apparently trying to muscle in on your turf, and they aren't even alpha as of now. Has your team reached out to them for comment yet?
We've seen them mentioned a few times on twitter, but have never had any in depth discussions with them. Bitbacker is a pretty straightforward name so doubt there is any malicious or fraudulent motive behind what they are doing. One thing that distinguishes our 

bitbacker.io

 is that we are crypto agnostic. The crypto world is still too small and the future too uncertain to tie the future of a site to a particular coin. The crypto world also has a high rate of vaporware, so until they've actually delivered something it is hard to justify spending too much attention to them for now. But when/if they do launch we look forward to competing, learning, and perhaps cooperating with them!
Sounds good to me – as an anti-IP anarchist, I hoped that would be your answer. I'll be using your site, full disclosure, and not theirs, especially because of what leads to my following questions.
Yes, in general, we don't agree with IP and in particular it's antithetical to the spirit of bitcoin. We are really excited to have you on board! As a brief aside we've fixed the

'large head' you mentioned

.
With Bitmain going belly-up, and the future of BCH uncertain, how many other coins do you plan to use, if any?
We want to support as many coins as possible. We are currently looking most closely at Lightning and Dash integration next. Bitbacker.io will adapt to whatever crypto the market chooses. As you have noted, this makes our platform much more resilient and thus a better place to build a follower base.

And if the crypto market tanks as a result, and troughs even further, will your funding model keep the platform stable? How resilient to you see your business to shocks like these?
There is minimal overhead to keep 

bitbacker.io

 running. Currently, we have no debt or cash burn to speak of so we can exist indefinitely.
Alright, awesome – so final question… where's the best place people can go for updates on BitBacker? Anywhere other than Twitter?
Was great chatting with you, the best place is definitely

@bitbacker_io on Twitter

! We are quite active there so please don't hesitate to reach out!
---
So there's that – was a pleasant exchange, and I hope I asked the questions you would've asked. Have questions in the meantime? Feel free to let me know in the comments. If they seem to require more than a comment in reply, I may ask directly, and do another post. But if they're short, I'll probably just end up sending them to the BitBacker Twitter, so they can log in with that account and respond in my Disqus panel. If you haven't yet, feel free to authorize any social network to post here instantly, no site account required! And if you like this kind of content, and you didn't click it earlier, feel free to…

… or check my introduction post to get more ways to support me, and find out why you might want to give a shit about that. Anyway, do you have an anarchist, libertarian, or similar project you want to discuss? Hit me up in the comments and if it's mutually beneficial, we'll hash it out! I hope to see you on this site often… there's an insane amount more in the works, and I can't do it without y'all.